FURUNO - for safe and efficient navigation
As part of our mission to contribute to safe and efficient navigation, Furuno offers a variety of navigation and communications equipment.
These products are designed for all types and sizes of merchant vessels, carrying both people and goods. With regards to newly-built vessels, we have built up a track record and global network commensurate with our top market share. Leveraging these assets, our business spans from new vessel construction to upkeep and lifecycle maintenance and retrofitting.
History
Since 1948, when the world's first fish finder was commercialized, Furuno has been responding to the needs of the maritime industry through developing various types of navigation and communications equipment. 
Furuno has the head office in Japan and is the world leader in marine electronics. Furuno is known for its good quality and service network worldwide. The company has around 3000 employees worldwide. It all began with the development and sale of sonars, but most are probably Furuno known for their exceptional radars.
The first Furuno product in Norway was sold in 1959, and in 1974 Furuno Norway AS was established. We are a sales and service organization providing navigational communication and fishfinding equipment to shipyards and shipowners. Furuno Norway has the head office in Aalesund and two departments Bergen and Oslo. We are a total of 36 ​​employees in the company, and we have 40 dealers around the Norwegian coast.
Furuno are the leading marine electronics supplier on the market, with almost 90% market share in some segments. Furuno Norway constantly focuses on quality, product development and customer service. 
Learn all about the Furuno history
Furuno Norway dealers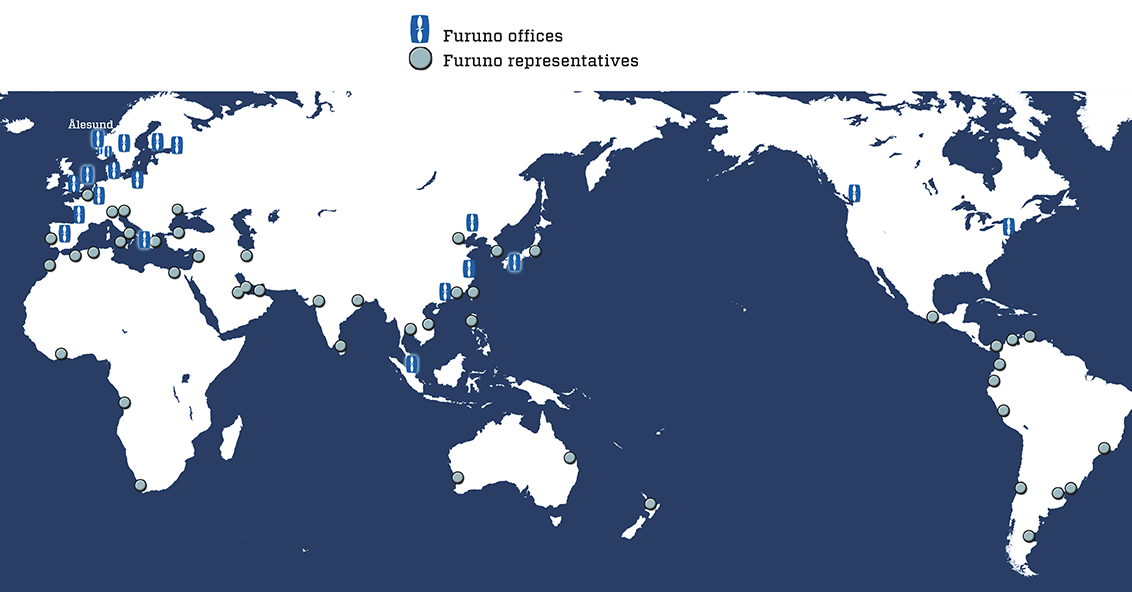 Corporate video