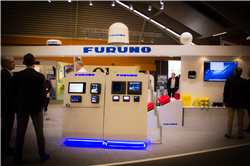 Furuno want to wish you welcome to stand G-702 and have a look at our product news, and other relevant products.
Marport seine sensor is one of many news we will show during this year's Nor-Fishing exhibition. This sensor is mounted on the purse. It is designed with omnidirectional uplink to the ship, which is activated when the sensor comes into the sea and ensures contact between the ship and the sensor. The skipper has full control over the fish coming into the net at any time, with update every second. In addition this seine sensor also has integrated echosounder function which shows numerical and graphical information of temperature, depth and hight.
Other news;
Hope to see you at the Nor-Fishing and stand G-702!