X-band Doppler weather radar WR-2120 (dual-polarization)
The WR-2120 is our most advanced X-band Doppler weather radar. The dual polarization enables attenuation correction, increased detectability and expand the capability for a detailed high precision and localized weather detection. The radar uses doppler technology and gives accurate radial wind velocity measurements.
Compact dual polarization weather radar
The Furuno WR-2120 weather radar is a dual polarized radar. This model simultaneously transmits and receives pulses in both horizontal and vertical orientation. As a result, the returning frequencies provide measurements of the horizontal and vertical dimensions of detected targets, thus providing the possiblity to present high precision echoes of the size, shape, and variety of targets.

STAND-ALONE or MULIT-RADAR CONFIGURATION
The Furuno WR-2120 weather radar can be operate as a stand-alone system for local weather observations or be a part of a multi-radar system in order to cover a wider area. Together with other weather radars utilizing the S-band or even C-band for long range coverage, the Furuno weather radars can be a very useful gap fillers, using the X-band and thus providing very detailed and high resolution presentation of weather observations within limited areas.

The Furuno WR-2120 provides high-resolution data within a radius of approx. 70 km with full volume scanning every minute.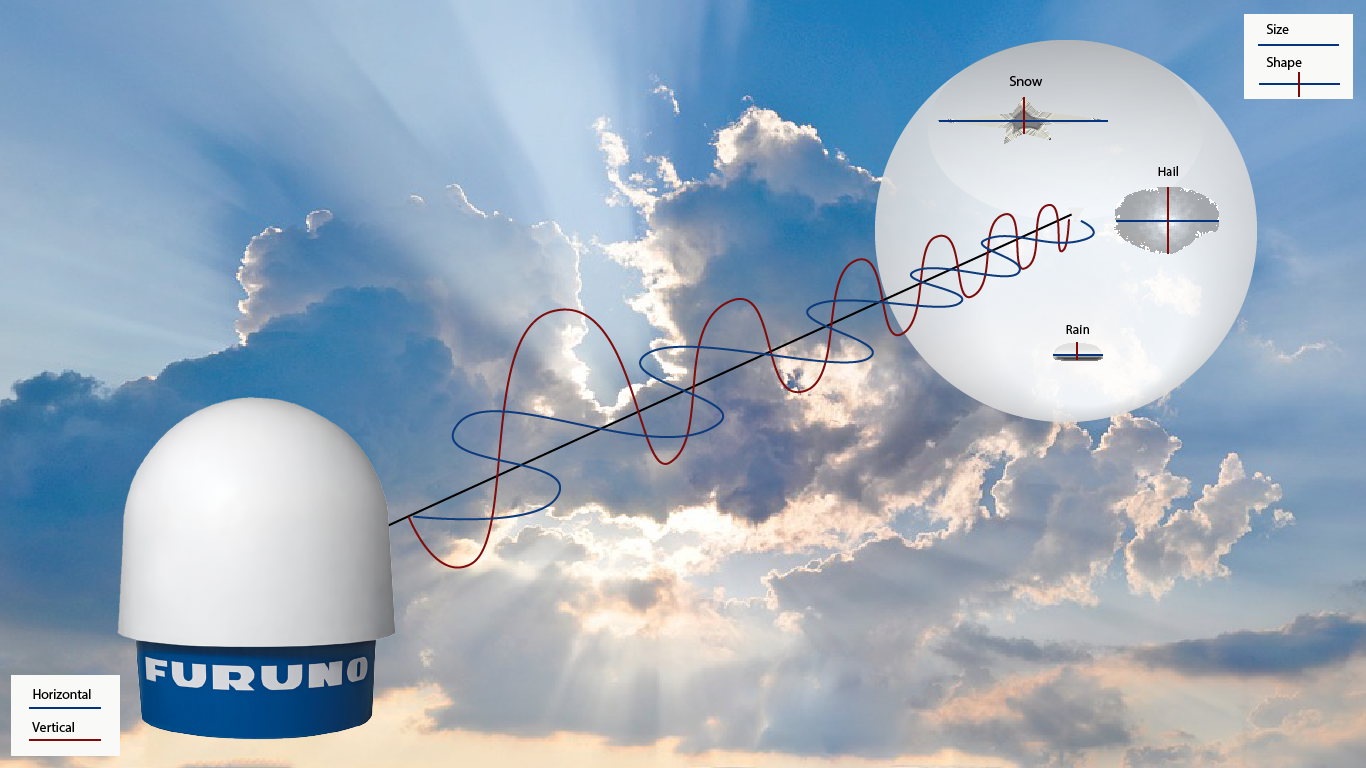 FURUNO WEATHER RADAR WR-2120 IS INSTALLED IN Aalesund
Furuno weather radar WR-2120 is installed at Aksla overviewing the city of Aalesund and the surrounding areas, within a radius of 70 kilometers. The radar provides Ålesund municipality with local and accurate weather observations that will be used for development of new and innovative services with the objective of managing municipal resources the best way possible.

Contact us for more information
VARIOUS COMPATIBLE DATA FORMATS
Binary, CSV, JPG, CF/Radial, Opera Odim HDF5, NEXRAD Level 2.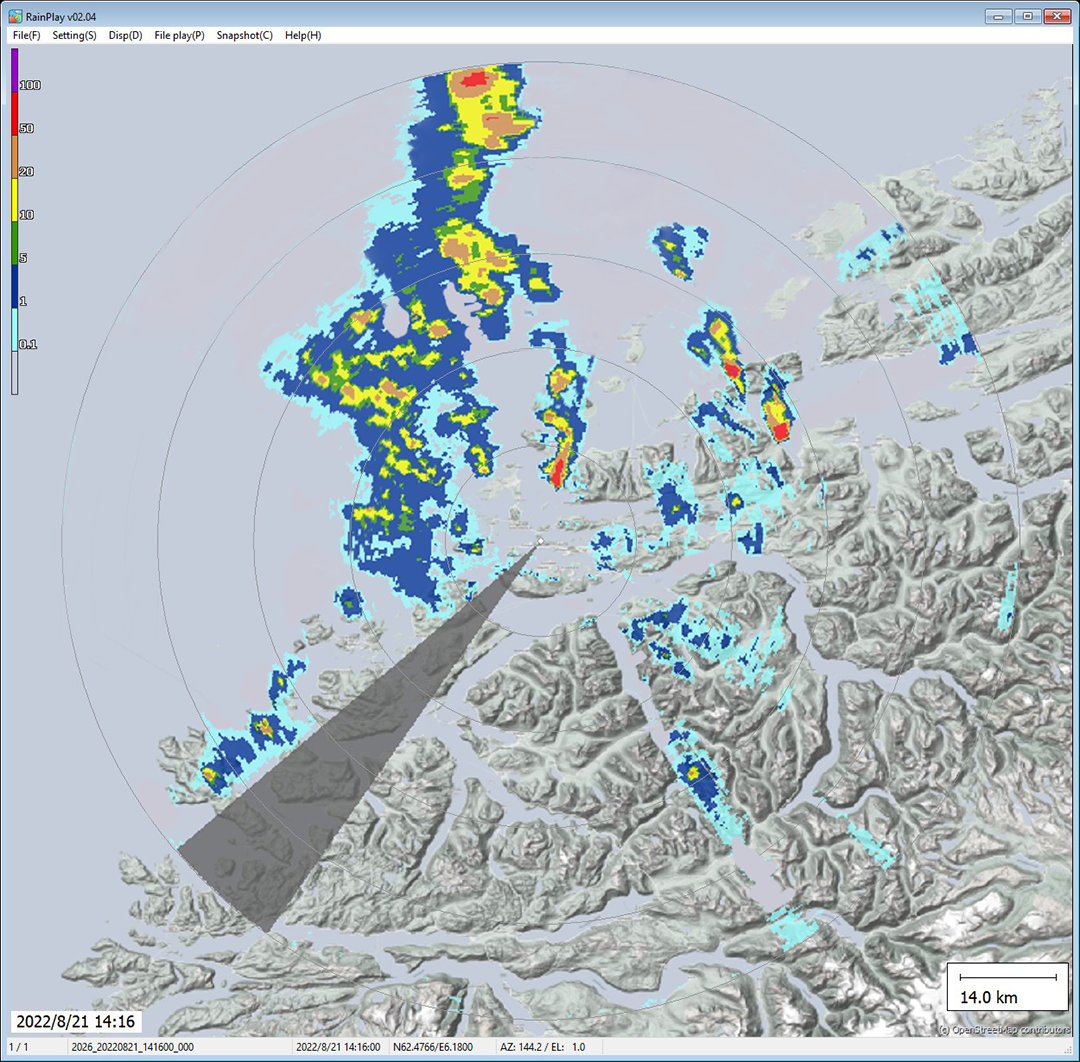 Rainfall with actively growing storm cells with high precipitation, 50 mm/h and occasionally up to 100 mm/h in local areas. This may cause challenge of drainage of surface water and flooding of sewer system and properties.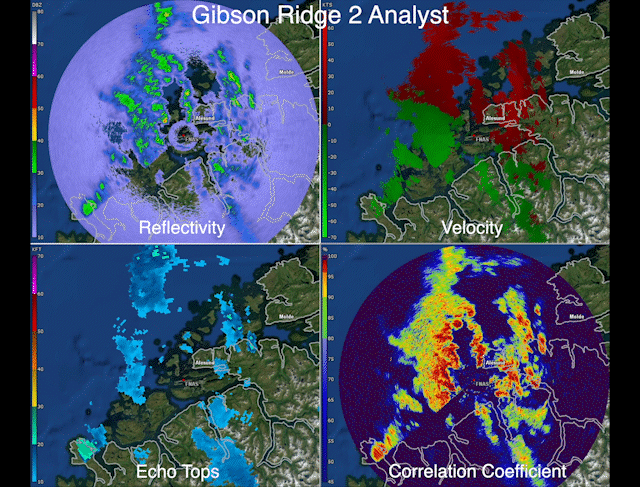 Recording above: WR-2120 in use in the 3rd party software Gibson Ridge 2 Analyst to be able to observe different radar outputs for analytical purpose.

Furuno weather radars are easy to install
No heavy machinery required for installation
Antenna unit size: 68 kg, ø 1085mm x 1025mm
Signal processing unit: 50 kg, 756 mm x 300 mm x 750 mm
Power requirement: 100 VAC / 240 VAC (10 Amp)
Internet connection: For real-time remote access min.100 Mbps is recommended