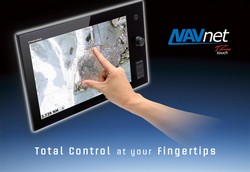 NavNet TZtouch has been awarded The Connex Most Innovative International Product Award at the recent New Zealand Boat Show.
Exhibited by the New Zealand FURUNO distributor Electronic Navigation Ltd, NavNet TZtouch was selected the winner above a number of other electronic products.
The judges believed the NavNet TZtouch was a true masterpiece of modern technology, delivering incredible versatility across a range of platforms and applications. Incorporating all of the latest touch screen technology it also has the advantage of appealing to both recreational and commercial users.
"This is the most significant advance we have seen from FURUNO in the last five years, it is fantastic to be recongnised by the panel of judges the innovation that has gone into NavNet TZtouch," says Calvin Clements, of Electronic Navigation Ltd, the New Zealand distributor for FURUNO.
NavNet TZtouch integrates a high-sensitivity, edge-to-edge glass multi touch screen, allowing the user to zoom and pan around the chart and a variety of other screens all with the touch of their fingertips. As soon as fingers touch the display, taps, pinches and swipes are instantly transformed into useful actions and commands.
"The technology jump has stunned the marine electronics industry and generated global comment on how easy and intuitive this new NavNet system is to use. The NavNet TZtouch is the industries first multi touch MFD bringing pinch - to zoom capability."