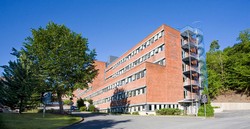 We have strengthened our team and can now announce that Hanna Elisabeth Sundstrøm Mattias and Henrik Bladh is employed as support staff in Furuno Norway. You will find them in our new office in Oslo.
Before joining us, both of them have seven years experience in similar work for Phonzo. It is one of the leading suppliers of VoIP services. We wish they welcome to our Furuno team.
As mention, Furuno Norway also got a new branch office in Oslo/ Lysaker. This replaces the branch office in Drammen, so now we got a common office in the East of Norway. Here you will find Ivar, Jarle, Bård, Tommy, Hanna and Henrik. The new office is located 2-3 minutes walk from Lysaker mainstation.