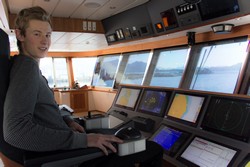 Asbjørn Selsbane has baptisms the upcoming weekend and Furuno congratulate the magnificent ship.
Asbjørn Selsbane is a family shipowning company engaged in fishing, both white fish and pelagic fish. There were three generations excited on board when Furuno were visited them during the vessel's final touch.The company was established by Alf Hansen along with his three brothers in 1958. The son, Andrew Hansen has taken over for his father and sees forward to the cod fishing that is right around the corner. The fishing vessel is well equipped with a wide range of Furuno products, including;
Furuno's navigation equipment: FAR-2137S, FAR-2117, RW-9600, GPS GP-150, GPS-33, GPS compass SC-110, ST-50, ST-33, T-2138.
Furuno's fish finding equipment: FSV-85, FCV-1200L, C-68, TS-337A.
Furuno's communication equipment SSB FS-1575 VHF FM 8900S, Navtex NX-700-B, Furuno FELCOM-18 and GMDSS VHF Radio. In addition, they also Furuno's new displaysolutionsystem, FNMS system.
Furuno appreciate the mission and wish the company best of luck in the future.
On the picture: the youngest generation Erlend Hansen (16), he is delighted with the new bridge with Furuno equipment.