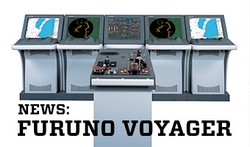 Nor Shipping will take place June 4 to 7th. Furuno Norway will utilize Nor Shipping 2013 to launch many interesting new products. This is news that will be of great usefulness for
both commercial and Offshore industry.
One of the big news Furuno Norway want to front at Nor Shipping is the new bridge solution, Furuno Voyager. This is an integrated navigation system on the bridge that primarily helps to increase security aboard. Furuno Voyager is a workstation that combines flexibility and redundancy. Users can easily choose between ECDIS, radar, chart radar, conning or Alert Management System at each multifunction display. Take a look at the video...
The other news Furuno Norway will demonstrate, is a unique night vision camera Night Navigator. This is a camera with full HD daylight camera with optical zoom and digital, thermal camera and a night camera detecting light down to 0,000001 lux. This makes the night almost as light as the day. The camera is also gyro stabilized so that the images are stable regardless of rough sea. Using this camera it is easy to spot objects in the sea such as ice, oil spills, buoys or "man overboard" and makes a significant contribution to a safe operation. Take a look at the video...
The third novelty is SafeComNet, which is Furuno Norway `s new communications solution.
SafeComNet combines navigation and communication in a whole new way, and shipping companies save time and money. Now, this solution is also integrated with Furuno Voyager, VDR and Night Navigator. Latest news, video recording and monitoring of vessels through the Night Navigator. Operators at shore can use SafeComNet to look the same as the crew, and select the video sequences one wishes to transfer to shore for further processing. Making life easier with SafeComNet aboard! Read more about the solution...
To learn more about these products visit our stand B03-18.