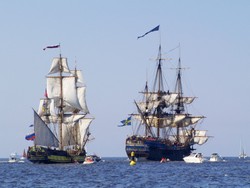 In 2015 The Tall Ship Races are coming to Ålesund, wich is the city where we have our main office. The race is a big happening and have a good concept aswell. Furuno Norway is proud to be one of the sponsors for The tall Ship Race 2015.
The Tall Ships Races are the largest international ocean races for sail-training ships in the world! Races occur annually in various parts of the world with millions of spectators. More than hundred Tall Ships will compete each other in a stunning race at sea. On shore the streets will buzz with theatre, sports, fireworks, music, food and of course the Crew Parade!
Although everybody is fanatic about racing each other at sea, it's not just about winning. The Tall Ships Race is an event where young people from all nations and social backgrounds can meet in a challenging environment. Creating new friendships with people from all over the world and having the time of your life, that is what The Tall Ships' Races are all about!
The start of the Tall Ship Races 2015 will begin in Belfast on the 2nd July and finish in Aalborg on 4th August.
The host ports for The Tall Ship Races 2015 will be:
Belfast (United Kingdom) 3 - 5 July
Aalesund (Norway) 15 - 18 July
Kristiansand (Norway) 25 - 28 July
Aalborg (Denmark) 1 - 4 August