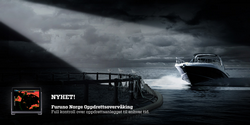 Furuno Norge want to thank everyone for a successful year 2014. We are looking forward to a new and exciting year 2015!
This Christmas we are supporting "The Norwegian Cancer Society" with 37.700, - NOK.
2014 has been a good year for Furuno Norge. We have participated on new exhibitions and got new products into our portfolio such as Marport and WASSP. On the other hand we have also developed new products our selves, such as "Oil Spill Detection Monitoring" for the oil industry, and the "Fish Farm surveillance" for the fish farming industry. With these new products in our portefolio in addition to those we already have, we look forward to an new and exciting year 2015!