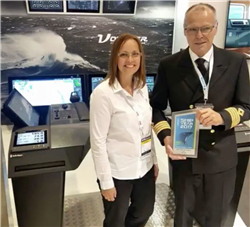 Furuno Norge want to congratulate Kleven verft, Remøy Management, HG Marine and all the involved with the price; "Ship of the year". We are proud to be the total supplier of all the navigation- and communication equipment on this great vessel.
M/V "NKT Victoria" build number 372 from the Norwegian shipyard Kleven Verft AS was awarded the Nordic maritime trade journal SKIPSREVYEN 's prestigious Ship of the Year award during the first day of Nor-Shipping.
The jury's reasoning for electing "NKT Victoria" as Ship of the Year 2017 is based on the fact that she is among the world's most advanced cable laying vessels incorporating several novelties as DP3 system and unique onboard DC Grid. The vessel is also fitted with a 6-point mooring system to maneuver where most deep sea cable layer would give up.