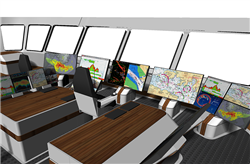 Furuno offers a comprehensive range of marine electronic equipment such as bridge system and other navigational and communication equipment.
We will together with other Furuno deligates world wide, show our overarching technological expertise with the solutions for merchant marine, fishing vessel, satellite communication and disaster prevention.



For merchant marine, the prime focus will be our bridge system, consisting of FMD-3x00 ECDIS and FAR-3x00 Chart Radar. The bridge system offers multifunction workstations with seamless display of Radar/Chart Radar, ECDIS, Conning and Alert Management System.



For fishing vessels, the integrated fishing & monitoring system (FNMS) will be introduced. It is a flexible advantage system designed for captains' needs and demands. Various types of processing signals can be displayed on the system, such as radar, fish finder, sonar and so on.



In response to the requirements to facilitate and transfer the data from onboard to shore, Furuno offers the fleet support program based on the ship-shore open platform with our satellite communication services.



Utilizing the technical expertise we have accumulated through the development of marine radar, FURUNO is now working on development in the meteorological monitoring and analysis. We will show our weather radar antenna together with the video to introduce our approach to the disaster prevention.



We will also present a coastal monitoring system, ice/oil/wave radar systems, training programs, WASSP (seabed profiling system) and various products, such as marine radar, VDR and satellite speed log.
Please visit us at SMM and find out how Furuno can contribute to the global maritime society. Furunos stand is located in Hall B6 Stand No.100. Welcome!