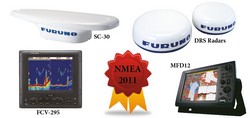 Furuno, world-renowned manufacturer of marine electronics, once again received the lion's share of awards at the prestigious 2011 National Marine Electronics Association (NMEA) Convention in Sanibel, FL. This brings Furuno's NMEA Award total to an incredible 201 awards since NMEA started presenting awards in 1971. A total of ten NMEA Awards were presented this year and Furuno received half of the awards issued!
For the sixth consecutive year, Furuno received the coveted Manufacturer of the Year - Support award. In fact, Furuno is the sole recipient of this award since its introduction on the ballot 6 years ago. "Customer service to both our technical marine electronics dealer network and our end-users has always been the number one goal at Furuno USA. We are extremely proud to be able to offer products that are extremely reliable and customer support that makes customers feel secure in their purchase," stated Jim Atteridge, President of Furuno USA. "We are constantly looking for ways to improve upon our customer service and an example of this is our new Furuno Forum located on our web site. We are connecting dealers and customers through our on-line community to ensure that Furuno customers are able to get answers 24/7, 365 days a year," added Atteridge.
Once again, Furuno's flagship NavNet 3D won NMEA Awards in two major categories; Best Radar and Best Navigation. Furuno took top honors in the Best Radar Category for an unprecedented 36th year in a row. They won it for their NavNet 3D DRS Ultra Hi-Definition Radar Series. The NavNet 3D DRS Radars come in a variety of sizes, from the 2.2 kW, 19-inch Radome to the powerful 25 kW, 6 ft. Open Array. Each sensor incorporates Furuno's UHD Digital Radar processing for the ultimate in target detection and performance.
For the fifth straight year, Furuno took home the NMEA award in the Best Navigation Category for the NavNet 3D MFD12. This unit features a vivid 12.1-inch LCD that displays your choice of preloaded NOAA Raster and Vector charts, or a choice of C-MAP Vector and Navionics Vector Charts. NavNet 3D is the only chart plotter on the market to allow users the choice of NOAA Raster and Vector charts, C-MAP Vector Charts and Navionics Vector Charts. Every one of these chart formats can be displayed in eye-popping 3D or traditional 2D, while further enhancing the charts with highresolution satellite photos that can be downloaded at no charge from Furuno's web site.*
Furuno's FCV-295 continued to carry the torch for Furuno's long tradition of receiving the award for Best Fish Finder. This brings Furuno's Best Fish Finder award total to an unbelievable 41 years in a row. The FCV-295 is a 1kW/2kW/3kW digital Fish Finder that features Furuno's award winning FDF (Furuno Digital Filter) technology. It also incorporates Furuno's Free Synthesizer (FFS) Transceiver, which allows the operator to select from a wide range of operating frequencies.
Finally, the Marine Specialty Product category provides for nominations of special marine electronics niche products that do not fit within the other award categories. Because of the general nature of this category, it attracted a significantly high number of quality nominations and the committee assigned two awards in this category, one for the winner and one for the runner-up. Furuno's SC-30 Satellite Compass was recognized with a 2nd place award in the Marine Specialty Product Category.
Furuno has a long and distinguished tradition of producing award-winning products. Once again, Furuno was awarded more NMEA awards than any other four manufacturers combined. In fact, Furuno received as many awards as all other manufacturers combined.