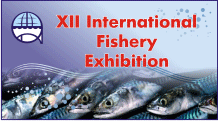 Furuno Norge is increasing its involvement outside Norway's territorial limits.
It has always been the case that the products sold by Furuno travel well beyond Norway's territorial limits. We have now also taken a more active position regarding foreign sales. We have three dealers in North West Russia. They are Bajck LLC and ERA Service in Murmansk, and Polarmar in Archangel. In South America we have started the collaboration with our dealer Ulstein Belga Marine, located in Rio de Janeiro.
As already said, we are increasing our activity level and at the top of the agenda is the fishery exhibition "Sea. Resourses.Technolgies – 2011". This exhibition will be held in Murmansk from 10 to 12 March. This is one of the three largest fishery exhibitions in Russia. You will be able to see a selection of our products on our stand, especially fish finding and navigation equipment. Our area sales manager for Russia, Frode Vik, will be our representative along with our dealers.
"Russia is an interesting market with great potential. The fishing industry is now more willing to invest in new vessels and upgrading of the existing fleet. A further positive factor is that more political attention is being paid to financing the fishery. The offshore market will also increase as time goes by, when the oil and gas fields are developed. Furuno Norge is now engaged in a process whereby we shall increase our involvement in the Russian market," says Frode Vik.