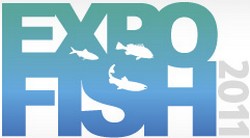 Furuno attended the ExpoFish exhibition (25-27th of May) in Moscow together with Norwegian Technology Suppliers (NTS). NTS is a group of major players within the fishing industry. There are totally 11 members which supplies top notch (quality) equipment from top to bottom for fishing vessel.
The ExpoFish 2011 was a fruitful exhibition for FURUNO Norge, there is no doubt that the Russian market is in a positive development and the potential is substantial .
The fishing fleet is in average over 20 years old and there is a need for upgrading to be able to operate in a cost effective way. Since 2009 there has been a quota system which is awarded for 10 years, this means that the fishing company can operate in a more long term perspective. This is also positive in respect of the financial situation for the owners.
Another important issue is that the governments of Norway and Russia is in a positive dialog to cooperate in terms of financing where Eksportfinans together with GIEK will play an important role.
For more information about NTS:
http://www.nortechsuppliers.no/