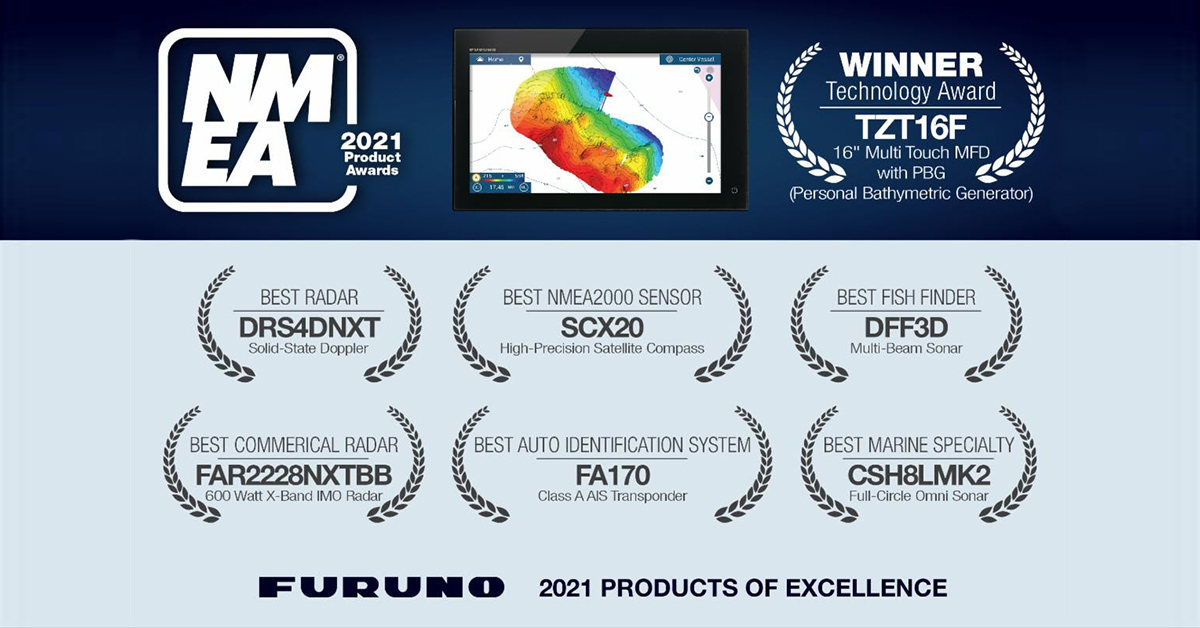 We are very happy and very proud to be granted 7 NMEA Product of Excellence Awards at the 2021 NMEA conference. It is 50 years since we won our first NMEA award in 1971, and since then, Furuno's outstanding products have brought home 242 prices. Read the jury's comments for each product below.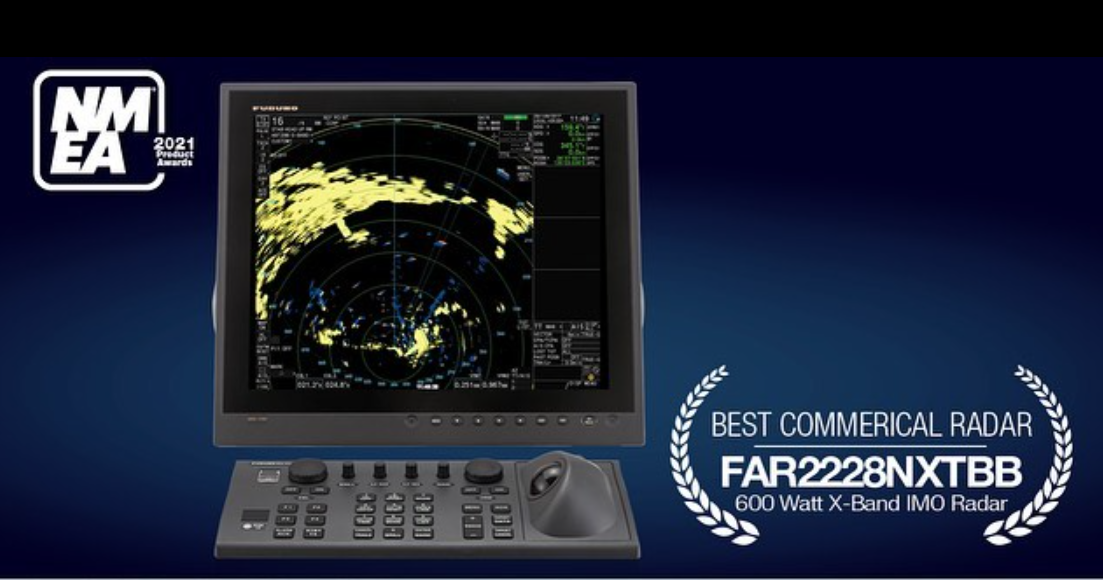 FAR-2xx8 NXT - The best commercial radar
In the Commercial category, Furuno's FAR-2xx8 NXT Radar brought home the Product of Excellence award. This 600 Watt solid state IMO Radar is the culmination of Furuno's decades of innovation, showcasing Furuno features such as Automatic Clutter Elimination (ACE), Fast Target Tracking, and a familiar but completely fresh user interface. The Radar also includes a refined antenna and gearbox.
GO TO PRODUCT (Norwegian)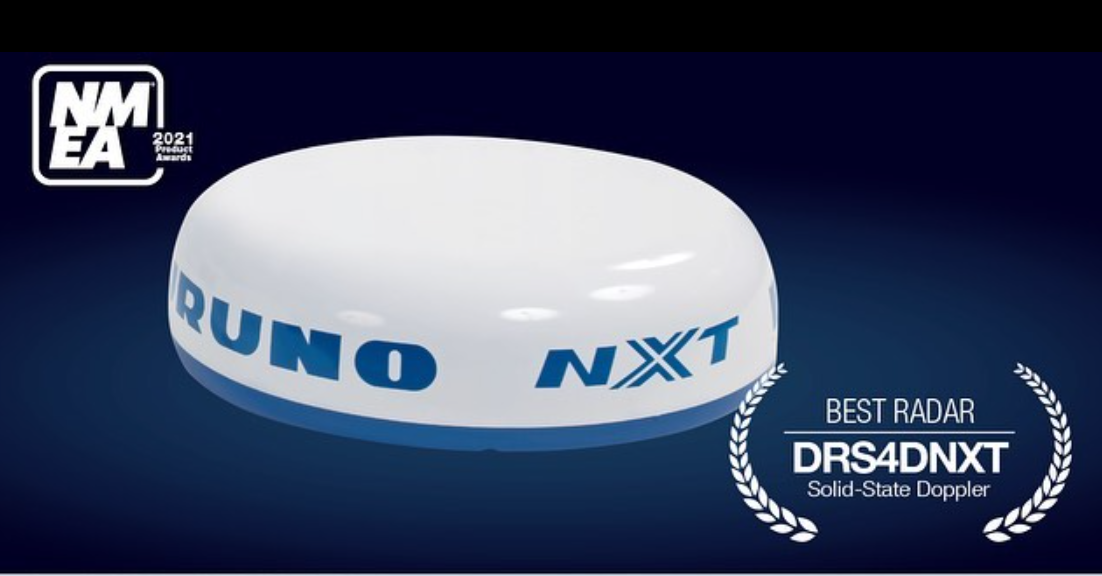 DRS4D-NXT - The best solid state doppler radar
In the Radar category, Furuno's DRS4D-NXT once again took home the top honor. The DRS4D-NXT is a solid state doppler radar in a compact 24" radome, featuring innovative Furuno technologies such as Target Analyzer™, Fast Target Tracking, and RezBoost Beam Sharpening.
GO TO PRODUCT (Norwegian)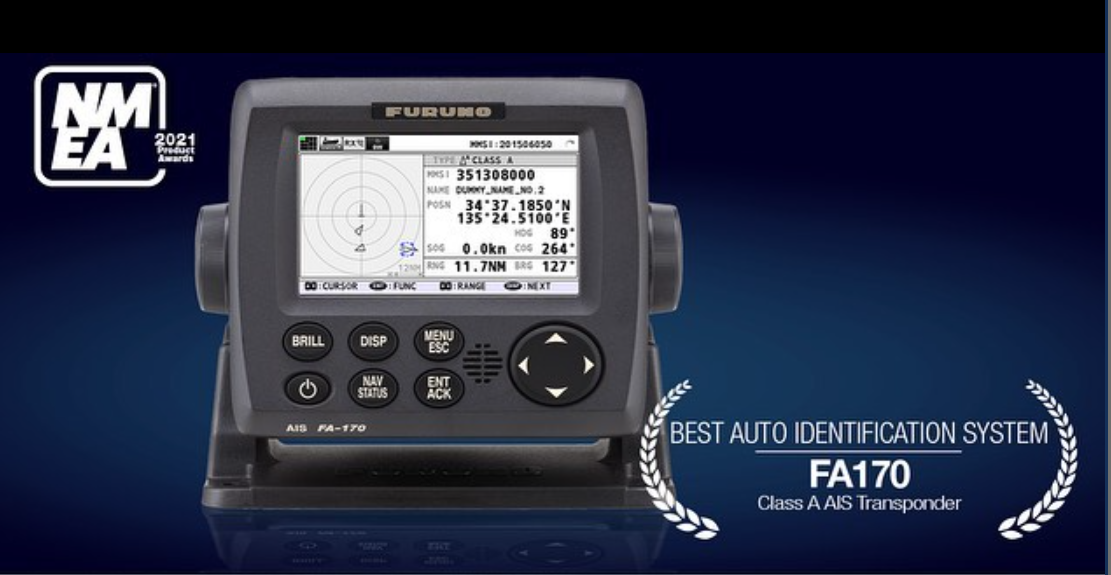 FA-170 - The best AIS
Completing their streak of victories, the FA-170 Class A AIS Transponder with 4.3" Color LCD Display took home the Product of Excellence - AIS award. This versatile unit has multiple ports to output reliable AIS data to all of the ship's navigation systems.
GO TO PRODUCT (Norwegian)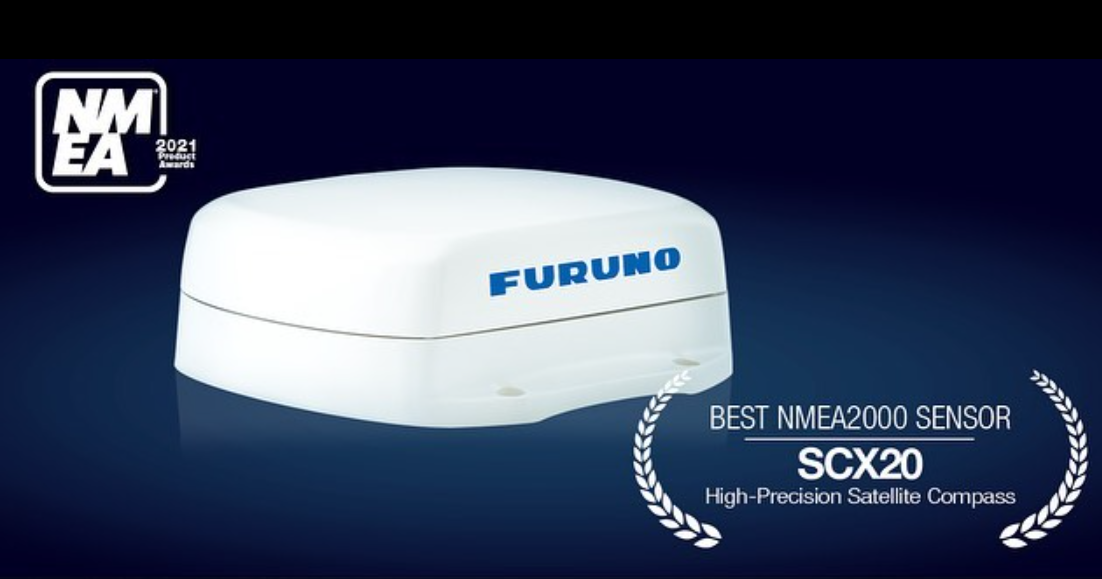 SCX-20 - The best NMEA 2000 sensor
The SCX-20 Satellite Compass was recognized once again as the top dog in the category for best NMEA2000 Sensor. The unique four-antenna design of the SCX20 makes this amazing Satellite Compass capable of calculating precise heading, pitch, roll, and heave information, even when line of sight is limited to only a single satellite.
GO TO PRODUCT (Norwegian)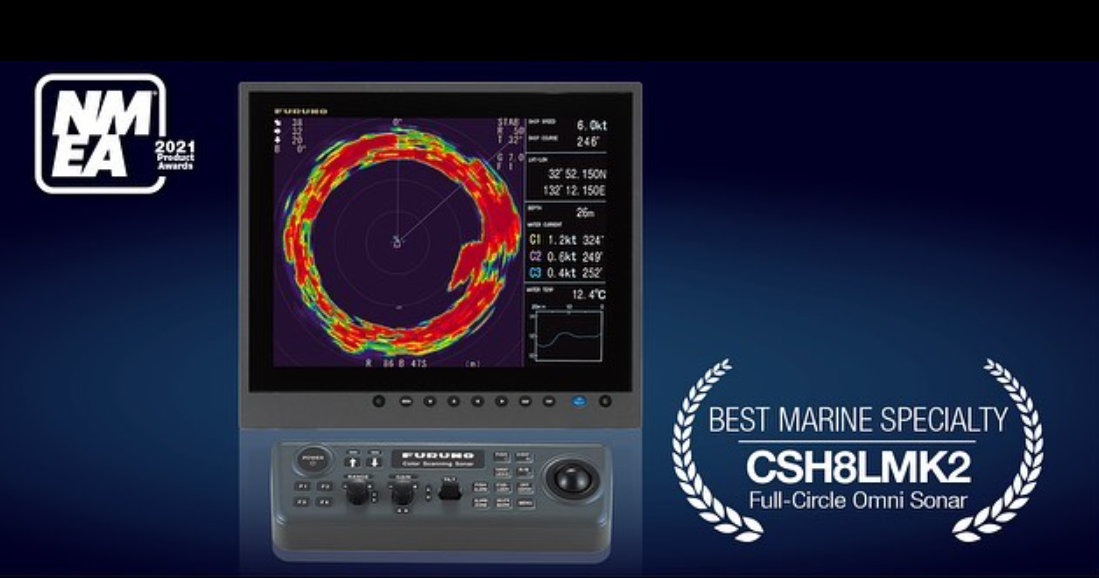 CSH-8LMK2 - The best full-circle scanning sonar
Furuno's CSH-8LMK2 Full-Circle Scanning Sonar took top honors in the Marine Speciality category. This mid-frequency sonar detects fish schools and individual fish, displaying fish distribution and seabed conditions in 16 colors, 360 degrees around the vessel. Its narrow beamwidth and enhanced target identification capabilities make it ideal for searching near the vessel or in shallow waters. NMEA members agree the CSH8LMK2 is a perfect solution for midwater trawlers, purse seiners, and sportfishing battlewagons alike, making it a game-changer on the tournament circuit.
GO TO PRODUCT (Norwegian)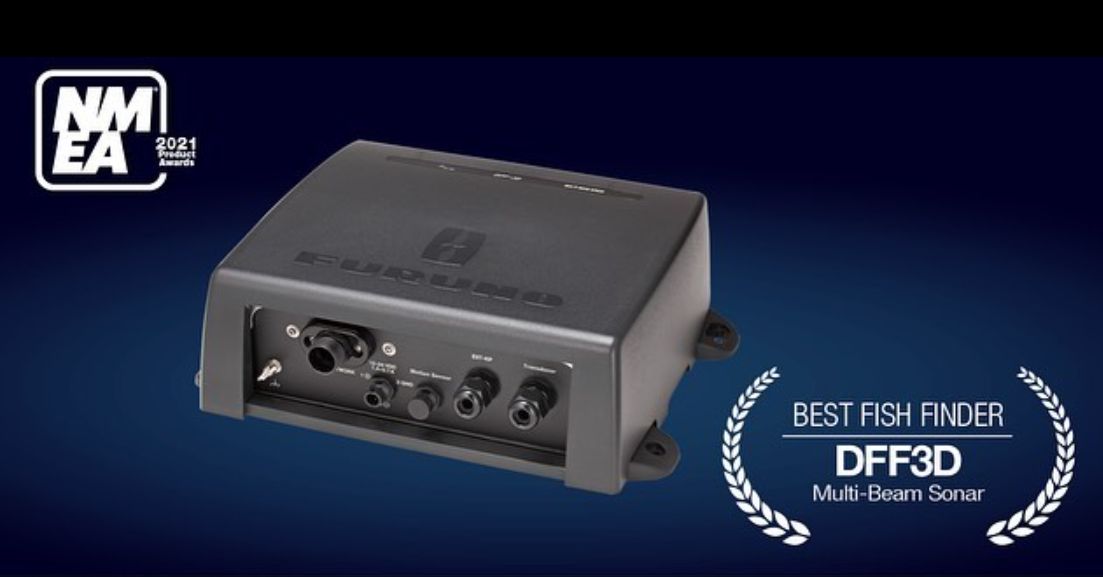 DFF-3D - The best fish finder!
Product of Excellence award for Fish Finder for the fifth consecutive year! The DFF-3D takes fish finding to new depths and angles, with a 120-degree view from port to starboard. With new PBG functionality, boaters can create their own shaded relief bathymetric charts wherever they travel.
GO TO PRODUCT (Norwegian)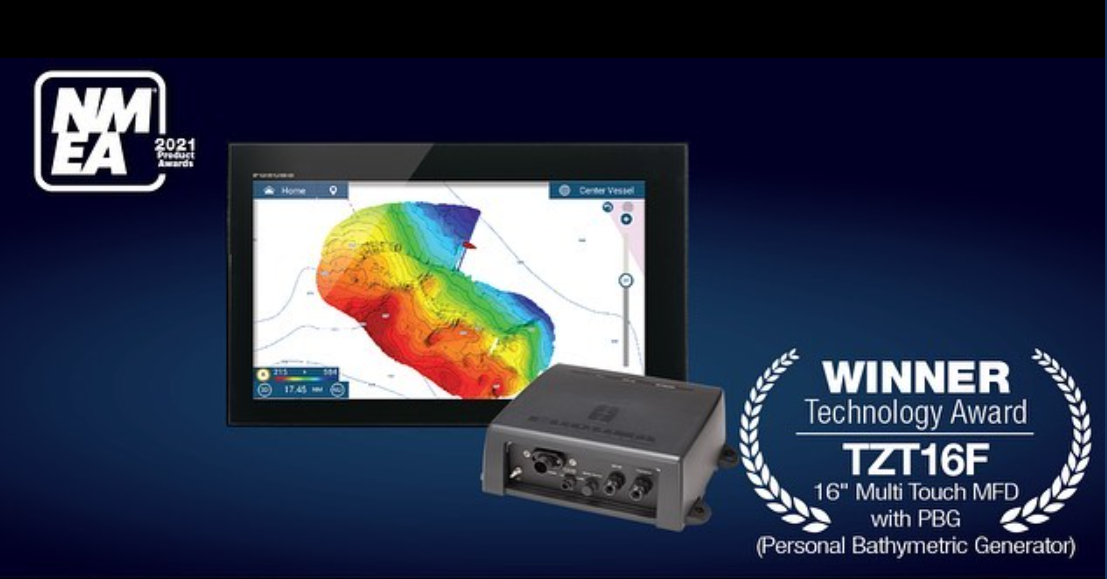 TZtouch3 TZT16F - Won the NMEA Technology Award!
The prestigious NMEA Technology Award is awarded to the marine electronics product judged best in innovation, benefit to boaters, practicality, and value. Unlike the other categories, a specially selected panel of industry experts chooses the winner of the NMEA Technology Award. This year, the judges selected the NavNet TZtouch3 TZT16F with PBG (Personal Bathymetric Generator) as the standout product of the year, beating out nine other candidates for this distinctive honor. PBG allows boaters to create their own shaded relief maps of the seafloor, drawn with depth contours and variable colors that make it easy to identify hidden structure and ridges that hold fish.
CONTACT US TODAY!