FURUNO WAVE RADAR WAVE ANALYZER WV-100
Wave Analyzer WV-100 takes advantage of the high performance of our latest IMO radar models FAR-2xx8 and FAR-3xxx. The solution can be used on all antenna types for both X-band and S-band radar, thus utilizing the capacities of the different antenna types with regards to sea and weather conditions.
For best performance, we recommend that Wave Analyzer WV-100 is used with our solid state IMO radar models FAR-2328 NXT, FAR-2338 NXT, or chart radar models FAR-3220 NXT and FAR-3230 SSD . We also reccomend that short or medium pulse length is used.
Wave Analyzer WV-100 is compatible with both X-band and S-band radars, both magnetron and solid-state models, thus can utilize the capacities of the various antenna types, depending on sea and weather conditions. Best performance is achieved at short or medium pulse providing a range up til 1200 meters.

As the first supplier in the world Furuno offers a complete solid state IMO radar system, for both conventional radars and for chart radars.
WAVE ANALYZER Wv-100 UTILIZES RAW ECHO DATA FROM THE NAVIGATION RADAR
For the traditional navigation radar image the backscatter from the sea surface is normally supressed, either by using automatic filters or by manual adjustment. When simultaneously using the navigation radar for wave analysis the WV-100 will, regardless of the settings selected for the navigation radar, analyse the raw echoes and extract wave information by applying its own specifically developed filters. The WV-100 presentation is a real-time presentation that provides an overview of wave patterns within the navigation radar's range and characteristics for significant wave heights.
INTEGRATES WITH OTHER SYSTEMS
Wave characteristics can be exchanged via serial transmission to any external compatible system, such as weather reporting systems and dynamic positioning (DPS) systems.
Post-processing of raw echo data from the navigation radar and presentation on a separate display allows the WV-100 to be connected to the navigation radar and operated without disturbing functions and performance required by IMO radar performance standards. Simultaneous operation of the wave radar does not interfere with IMO type approval or IMO radar mode.
ACCURATE DIGITIZED WAVE INFORMATION
During sailing, the wave radar can be a useful tool for assessing course and route changes with the aim of reducing the risk of damage to cargo or to achieve a more fuel-optimized sailing.
During weather-critical operations, the WV-100 provides valuable decision support by detecting wave patterns and characteristics that exceed safe operating thresholds. The range and detection capability of the radar make it possible to detect unfortunate wave patterns with a sufficient margin to assess whether operations can be performed safely or should be terminated.
WV-100 WAVE ANALYZIS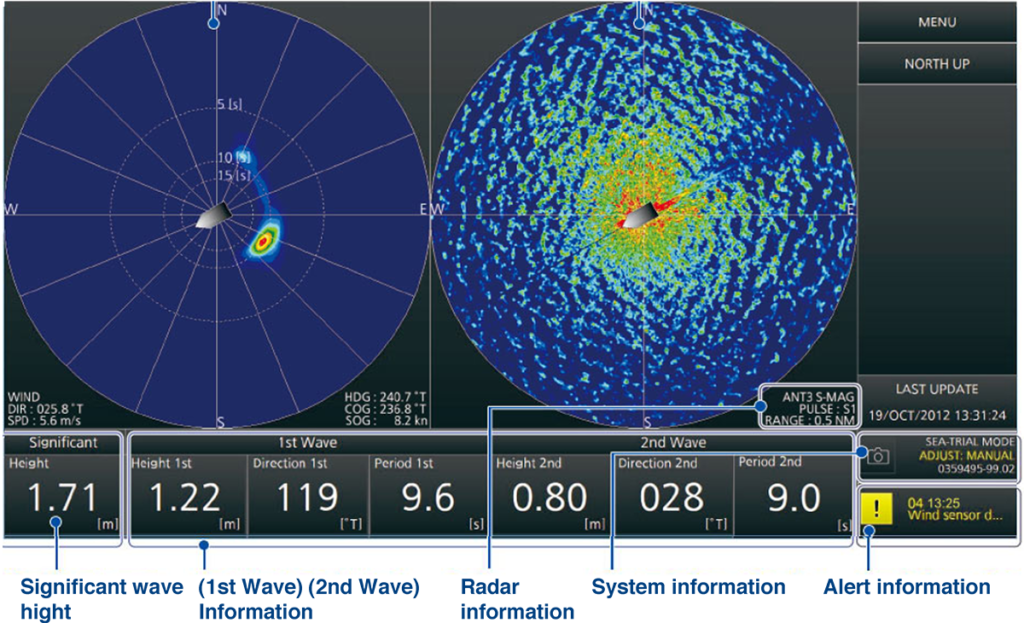 REAL-TIME WAVE PATTERN PRESENTATION
The wave analysis is sophisticated and the presentation is updated in real-time. The solution has two presentation modes that are displayed simultaneously. Radar echo presentation provides an overview of the surroundings using a colour palette from dark blue, light blue, light green, dark green, orange, yellow and red, where red indicates the highest wave peaks. Simultaneously the wave spectrum display is presented with focus on the characteristics of individual waves that can pose a risk and the frequency of such waves.
Furuno Wave Analyzer WV-100 analyses waves within the radar range and looks for patterns that may pose an operational risk. The solution offers valuable decision support while sailing in adverse weather and during critical operations such as crane work or connecting of the walk-to-work gangway.
WAVE ANALYSIS PRESENTED IN THE IMO RADAR IMAGE
The information from the wave analysis can be presented in a separate menu in the radar display with information about wave height, speed, frequency and pattern. A graphic element gives a visual presentation of the wind direction and the direction of the waves relative to own ship.
Significant wave height
Significant wave height is defined as the average of the height of the 33% highest waves over a period of 20 minutes.
1st wave / 2nd wave
The two waves that stand out the most in the observed area are defined as 1st wave and 2nd wave for further references.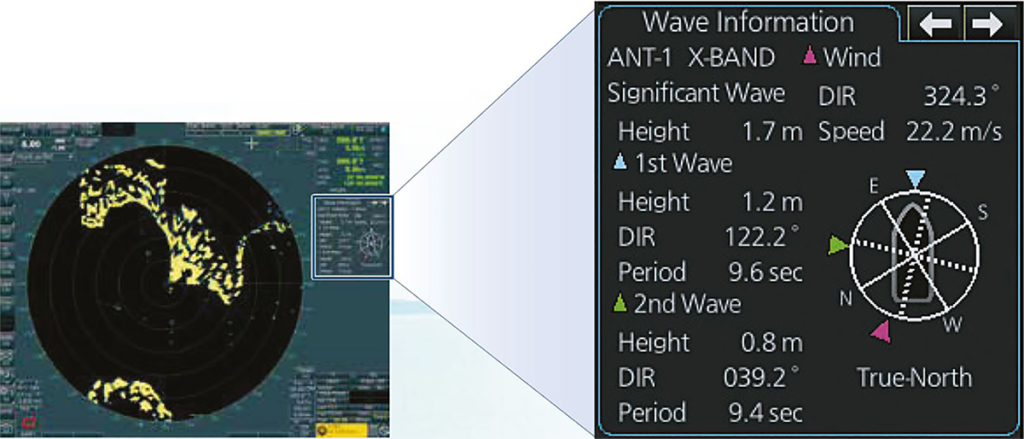 Wave information from Furuno Wave Analyzer WV-100 in the radar image for navigation radar.
FURUNO IMO RADAR - FLERE OG SAMTIDIGE ANVEDELSER GIR GEVINSTER
FURUNO WAVE RADAR UTILIZES AWARD-WINNING RADAR TECHNOLOGY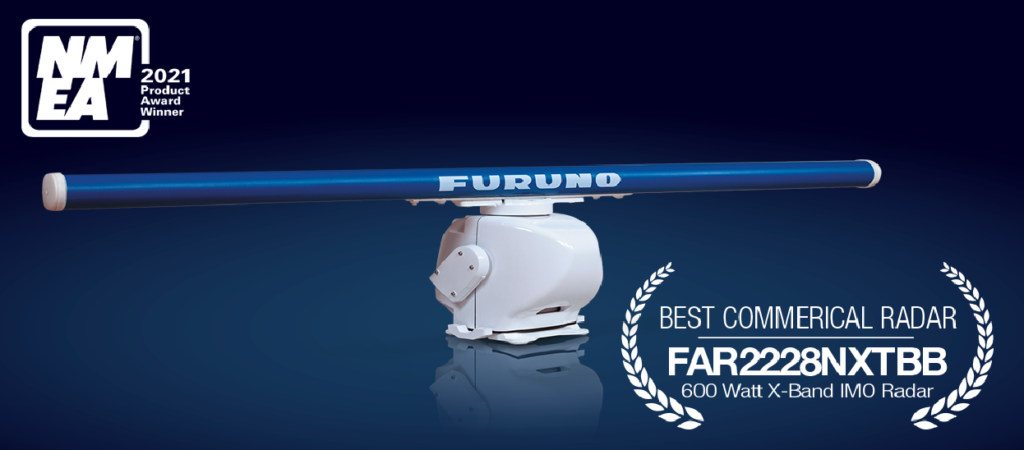 Furuno IMO radar has been awarded a number of times for its high performance for range, detection capability and automated noise filtering. Our latest radar models have the ability to distribute raw data to other systems over IP network. This enables us to offer several different add-on radar modules where highly sophisticated filters are used to suppress or highlight relevant echoes as needed. Available add-on radar modules in addition to wave radar are oil radar FOIL-200 and ice radar FICE-100.
Our latest radar models are versatile solutions with the possibility of several simultaneous applications. This results in lower investment costs and at the same time cost-effective maintenance. Several applications on the same equipment also limits the challenges associated with the physical placement of the antennas.
COMBINE WAVE RADAR AND OIL RADAR FOR BEST POSSIBLE DECISION SUPPORT DURING CRITICAL OPERATIONS
During oil spill recovery operations Furuno radars can support navigation, oil detection and wave analysis simultaneously and continuously. Furuno oil radar Foil-200 detects oil on the sea surface and presents accurate position information for the oil slick. Foil-200 also has functions for calculating the volume of the oil in the slick. The entire identified area is presented on the oil radar display and can be transferred to the chart presentation of a compatible ECDIS to support navigation.
EFFICIENT COLLECTION OF OIL SPILLS
Oil spill recovery is a demanding operation that often involves many parties and several vessels with different roles. The navigator's tasks are demanding and a correct and complete situational awarenenss is crucial. The Furuno radar solution  features the possibility to present relevant information on the display of the very same instruments that the navigators use on a daily basis. This reduces the need for education and training and significantly reduces stress.
Collection of oil emulsion during a NOFO exercise in the North Sea.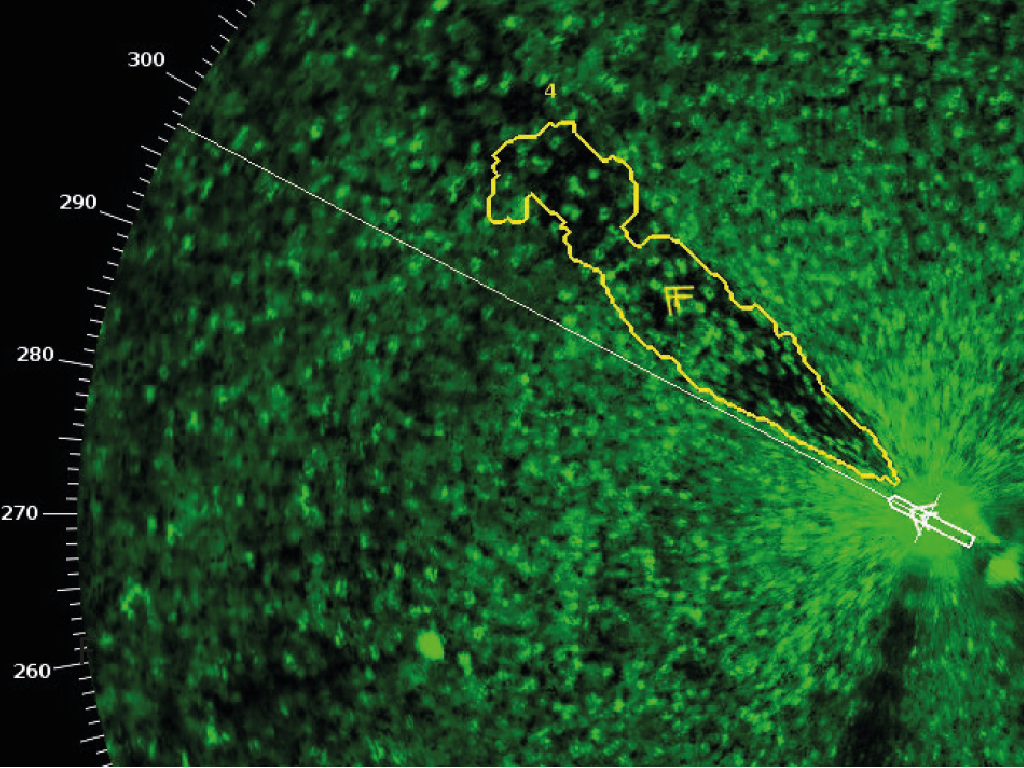 Foil-200 presentation of detected oil