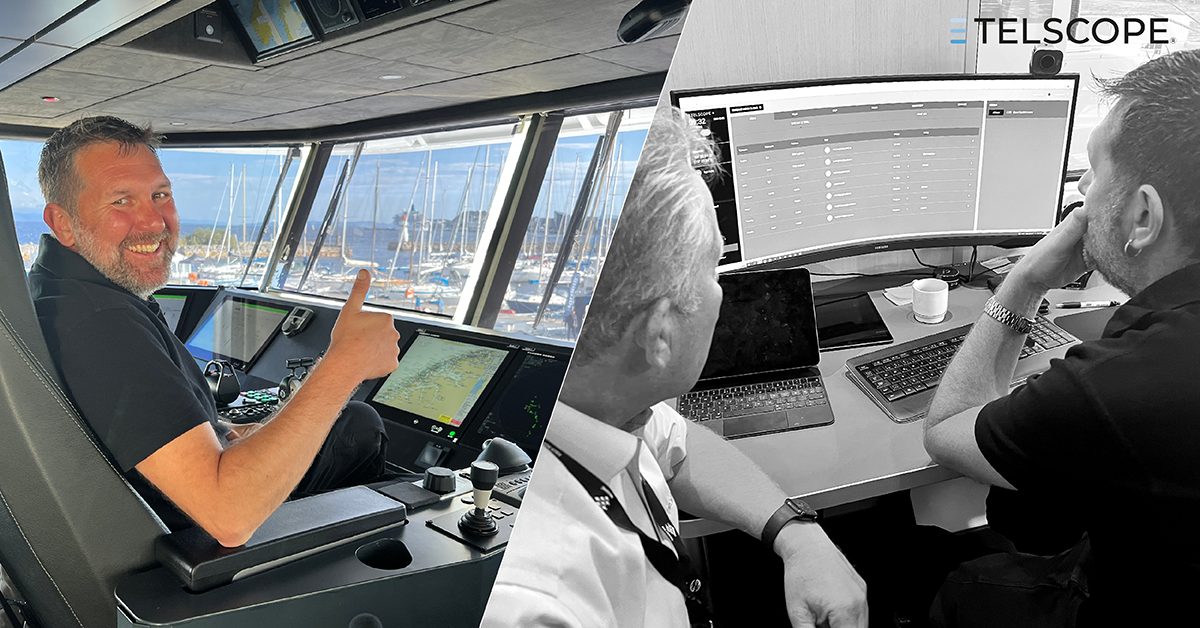 - We have chosen TelScope to reduce the time and energy spent on record keeping. We are now configuring the system to benefit from the automated logging capabilities of TelScope as much as possible. This is particularly relevant for us regarding the hybrid propulsion, says Egil Helle, captain onboard MS Fjorgyn.
MS FJORGYN WILL SERVE THE ENTIRE NORWEGIAN COAST AND NORWEGIAN OCEAN AREAS
MS Fjorgyn will be used for monitoring purposes for the Norwegian Directorate of Fisheries and to clean up the seabed along the entire Norwegian coast and in Norwegian ocean areas. She will also act as a host vessel for various research missions. MS Fjorgyn is well equipped to withstand all sea and weather conditions, demanding navigation and operations both at sea, in fjords and in shallow and unclean waters. The vessel is built in accordance with regulations for both cargo ships and high speed crafts. In addition, she has a hybrid propulsion system for battery and diesel.

TELSCOPE SIMPLIFIES RECORD KEEPING OF ENERGY CONSUMPTION
Norled AS owns and operates MS Fjorgyn, initially on behalf of the Directorate of Fisheries for the vessel's first years of operation. Norled has distinguished itself as a shipping company with a strong focus on reducing emissions. MS Fjorgyn is in very good company with Norled's Ship of the Year award winner MS Medstraum (2022) and MF Hydra (2021).

MS Fjorgyn has a solid Furuno bridge package that includes solutions for navigation, communication and equipment for search and removal of lost fishing gear. TELSCOPE will automatically generate record book entries for the switching between battery and diesel operation and will be configured to report energy consumption and emissions by integration with the ship's IAS.
We want to give you an overview of TELSCOPE functionality, current regulations and what a shipping company must consider when transitioning to electronic record books.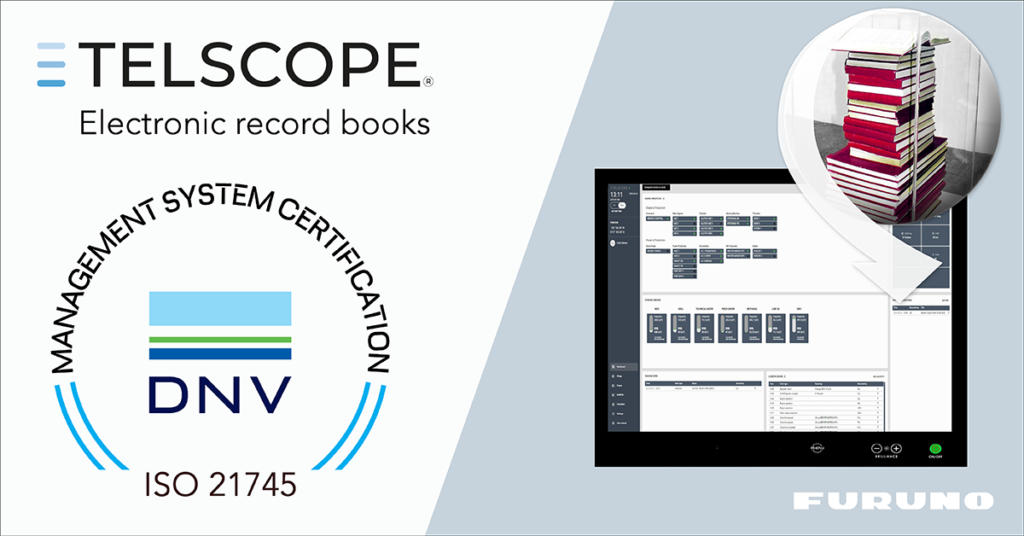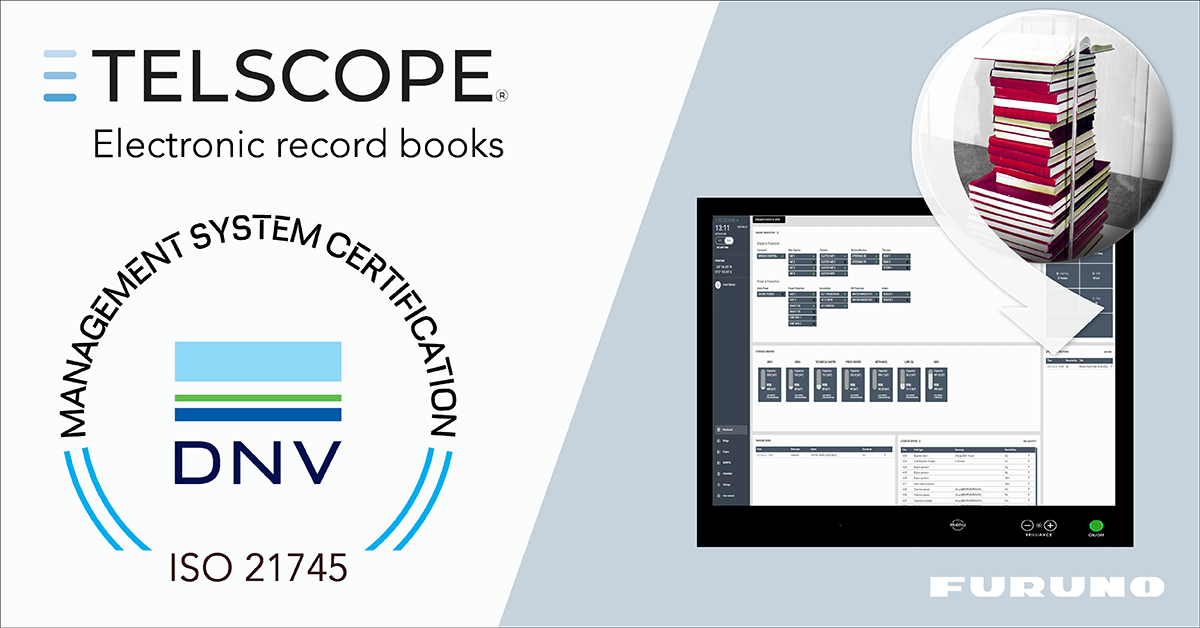 Contact us for a meeting
TELSCOPE - IAS SYSTEM INTEGRATION simplifies REPORTING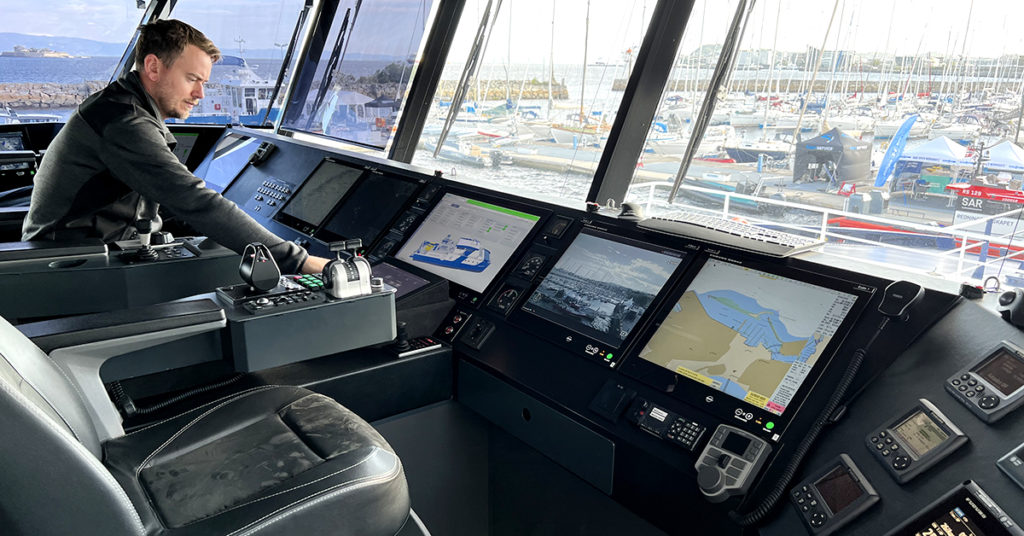 Photo: Furuno Norway. Chief Engineer Jonar Golten onboard MS Fjorgyn.

The process of integrating TELSCOPE and the vessel's IAS (Integrated Automation System) is now ready to start. The first main objective is to obtain automatic record keeping of the vessel's operating hours on battery and diesel. Automatic record keeping will significantly reduce the manual work onboard and also manual work at the landside on reporting of operating hours, energy consumption and emissions. With the TELSCOPE – IAS system integration in place there is a foundation for further exploring of the possibilities for integrations with Norled's overall energy and emission accounts.

Chief engineer Jonar Golten is very pleased with his new workplace onboard MS Fjorgyn. On the bridge, he operates the IAS system which will now be integrated with TELSCOPE to enable automated machine-related record keeping.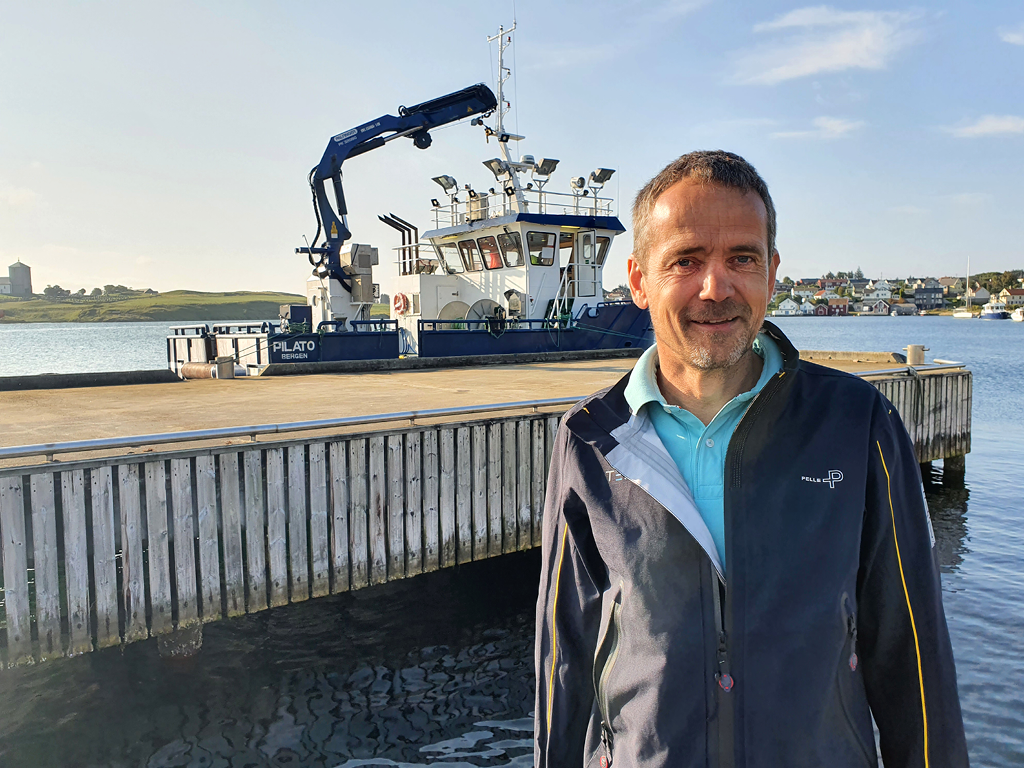 Furuno archive photo. Thore Østensen, general manager of Vico AS

- Vico has been a service partner for Norled for many years and has delivered many Furuno bridge solutions to their ferries and high speed crafts. We greatly appreciate the good cooperation for both new builds and service, says general manager at Vico, Thore Østensen.
Furthermore, he says that the Furuno solution on board MS Fjorgyn includes a full suite of instruments for demanding navigation. - What is a bit special about MS Fjorgyn is that she also has a WASSP multi-beam echo sounder to search for lost fishing gear that should be removed. This is equipment we usually deliver to the larger fishing vessels for seabed profiling and fish finding. It is gratifying to see that this sophisticated technology is now benefiting the environment.
The fact that Norled chooses TELSCOPE electronic record books for MS Fjorgyn is interesting and aslo in line with the general demand for modern, electronic solutions.