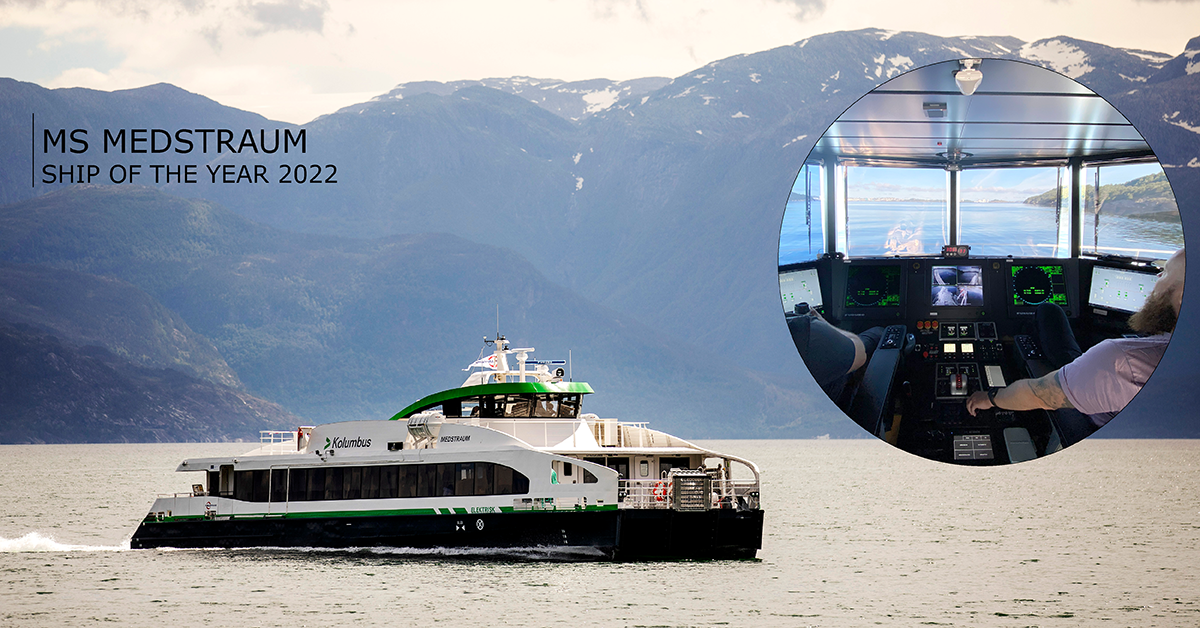 Furuno is proud to be the chosen supplier of the navigation solution onboard MS Medstraum, the world's first fully electrified high speed ferry and this year's winner of the prestigious Ship of the Year award, as announced on September 6th, during SMM.
MS Medstraum is owned by the public transport provider Kolumbus and will be operated by the Norwegian ferry and high speed craft shipping company Norled. Furuno congratulates the parties on a particularly innovative new building and the grand award!

TECDIS IS CENTRAL TO THE NAVIGATION  SOLUTION
Central to the navigation solution is the TECDIS electronic chart solution. In close dialogue with Norled, which will have the  operational responsibility for MS Medstraum, the solution has been extended with new functionality particularly well adapted to route management for high speed passenger vessels. This includes, among other things, the Quick Route function, which allows for swift and easy handled route changes should ad hoc needs arise.

MS Medstraum is fully electrified and has a battery capacity for 1 hour of speed at 23 knots, which is very impressive. A lot has been done with design, choice of materials and choice of system solutions to achieve this. The speedboat is to be used in normal speedboat operation, but also for speedboat cruises. TECDIS has functions adapted to integration with the propulsion system so that speed and thus energy consumption can be well adjusted to the current need, whether that is punctual arrival time or energy-saving sailing.

TECDIS ARMREST PANEL FK 2020
A TECDIS Armrest panel FK 2020 has also been developed so that the operation of frequently used functions is simplified to be most efficient and ergonomically comfortable.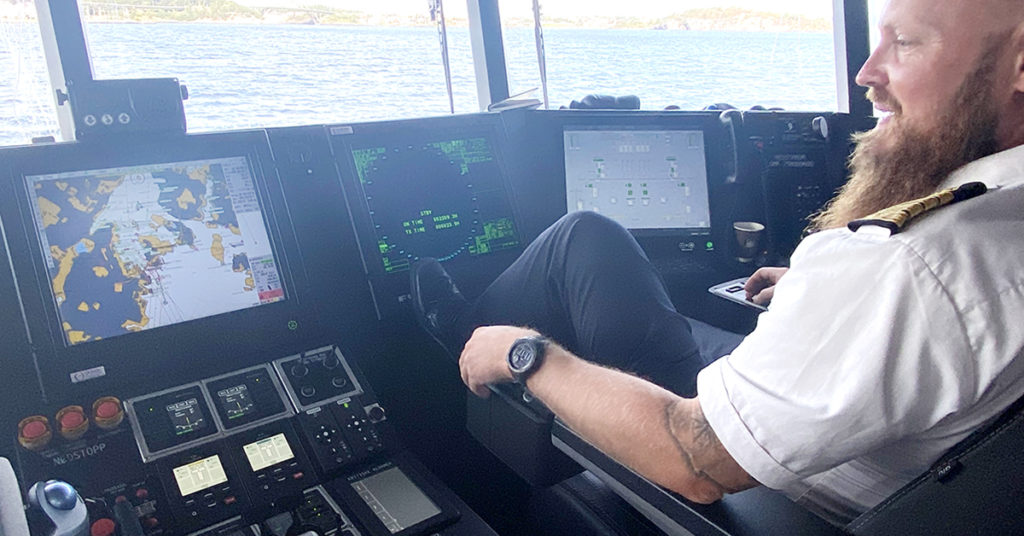 Captain Einar Netland onboard MS Medstraum. Foto: Kolumbus

TECDIS is our IMO approved ECDIS appreciated for being highly user-friendly. It is popular among navigators sailing the Norwegian coast. A close dialogue and good cooperation over many years has resulted in an effective solution for demanding coastal sailing.
Kolumbus considers TELSCOPE FOR MS MEDSTRAUM
AUTOMATIC AND ACCURATE LOGGING PROVIDES USEFUL INFORMATION ABOUT THE OPERATION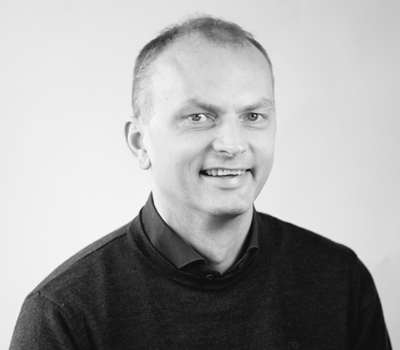 The next step is to look into implementation of TELSCOPE Electronic record books, says Mikal Dahle, project manager for TrAM from the forward leaning public transport company Kolumbus.

Automatic and accurate logging will provide a valuable report basis for tuning towards optimal operation of the vessel.
NORLED USES TELSCOPE FOR HYBRID VESSEL MS FJORDGYN
TELSCOPE has recently been put into use for MS Fjordgyn, which was handed over to Norled in May this year. The vessel is owned and operated by Norled on behalf of the Norwegian Maritime Directorate. The vessel has a hybrid propulsion system that will ensure a reduced environmental footprint. Automatic logging of the switching between electric and diesel-powered propulsion, as well as reporting on this, is one of the advantages they want to be able to benefit from.