Lavfrekvenssonar FSV-25S
Sonar med svært lang rekkevidde, samtidig som at den virker godt på kort avstand og kan brukes i kastefasen på not. Kan opereres på en eller to skjermer samtidig og kjører med forskjellige gain, range, tilt og program. Sonaren presenterer et utrolig rent og klart bilde.
FSV-25 hører til siste generasjon sonarer fra Furuno, med høyere ytelse i form av økt rekkevidde, svært god skilleevne og sofistikert signalprosessering som blant annet gir en nær støyfri presentasjon.
FSV-25 har støtte for 2-skjermsløsning. Man kan sette opp 2 dedikerte skjermer eller kjøre de samtidige presentasjonene gjennom skjermmatrise. I praksis gir dette en opplevelse av to sonarer på samme bunnutstyr, siden de to presentasjonene kan betjenes uavhengig av hverandre, både med hensyn til tilt, range, gain og brukerprogram. Dette gjør det enklere å fokusere på observasjonen av fisken, fremfor å jobbe med sonaren for å hele tiden holde fisken innenfor dekningsfeltet.
FSV-25 har opsjon for 3D modul. En 3D-presentasjon gir langt mer informasjon og en rask og intuitiv forståelse av sonarbildet. Gå til produktsider for F3D-S.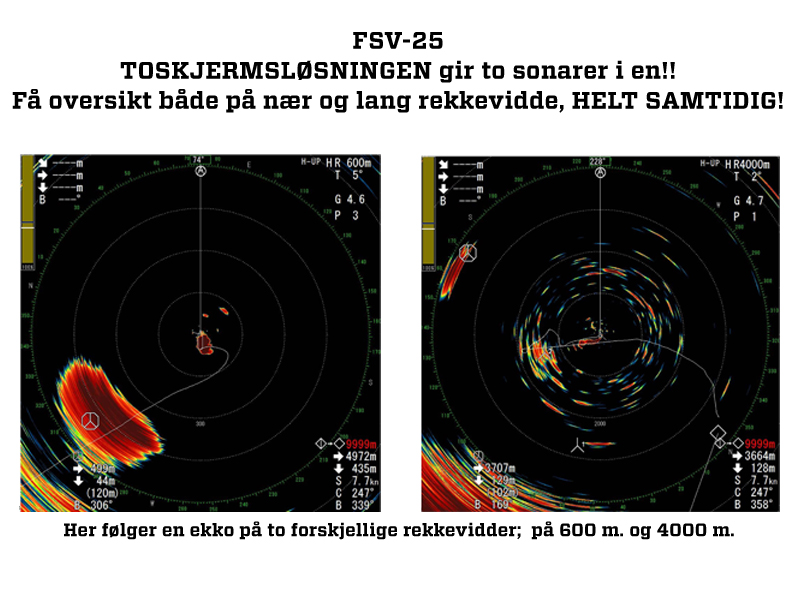 Lang rekkevidde
Ikke gå glipp av en flekk! Med en rekkevidde helt opp til 6000 m., får dere oversikt over flekker som befinner seg på lang avstand. På en god dag har vi erfart at en ser fisk på over 7000 m. 
Ekstremt klart bilde
Et integrert autofilter sørger for at du til en hver tid har det klareste bildet. Sonaren oppleves som mer troverdig og en ser en flekker en ellers ikke ville sett på en annen modell.
Autotrack på fiskestim
Sett på automatisk track på en fiskestim eller lås detekteringen på ett område, valget er ditt.
Roll and pitch
Roll and pitch stabilisatoren sørger for at ekkoene er stabile når en mottar dem.
Enkelt med videoopptak eller ta et skjermbilde 
Vil en ta vare på gode bilder til senere bruk, så kan en enkelt ta opp og lagre på en USB stick.
Standardsett inkluderer:
1 stk Prosessor enhet m/utgang til 2 skjermer
1 stk Betjeningspanel
1 stk Interface-enhet
1 stk Sender/Mottaker-enhet
1 stk Strømforsyning
1 stk Koblingsboks
1 stk Hull unit med ståltank
1 sett Standard installasjonsmaterialer